---
TV REVIEW / January 14, 2018

---
---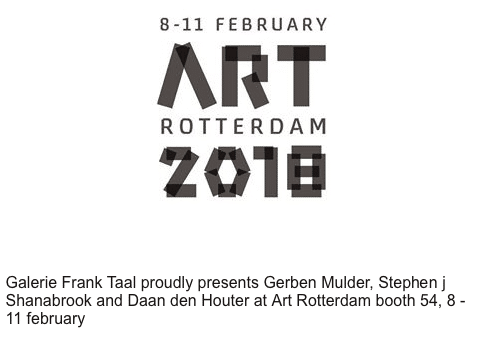 ---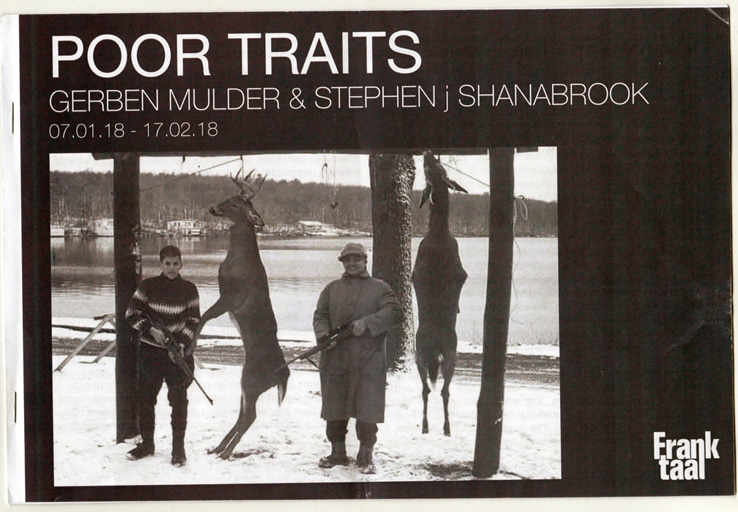 POOR TRAITS duo show with Gerben Mulder / FRANK TAAL GALLERY / ROTTERDAM
---
Brother From Another Mother January 13, 2018 — April 16, 2018 group show at Mark Peet Visser Gallery / KNOKKE
---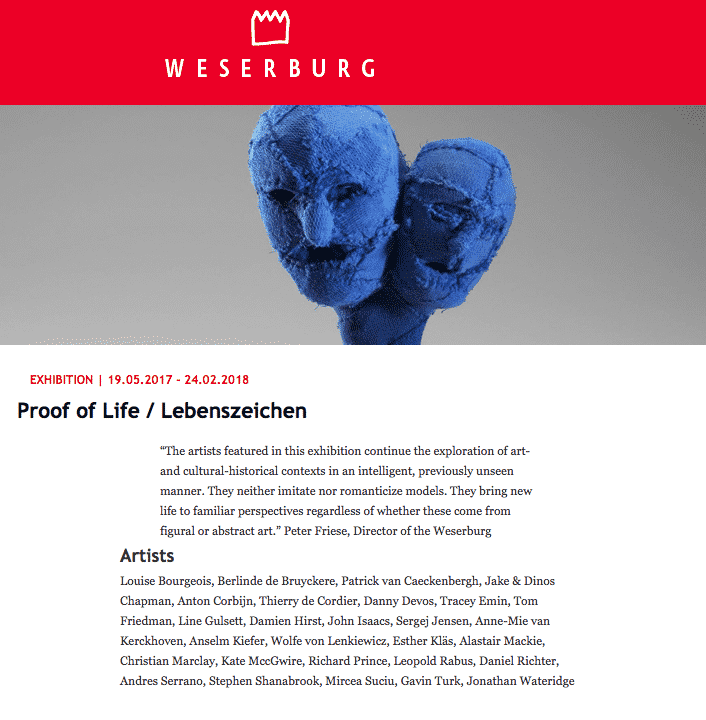 ---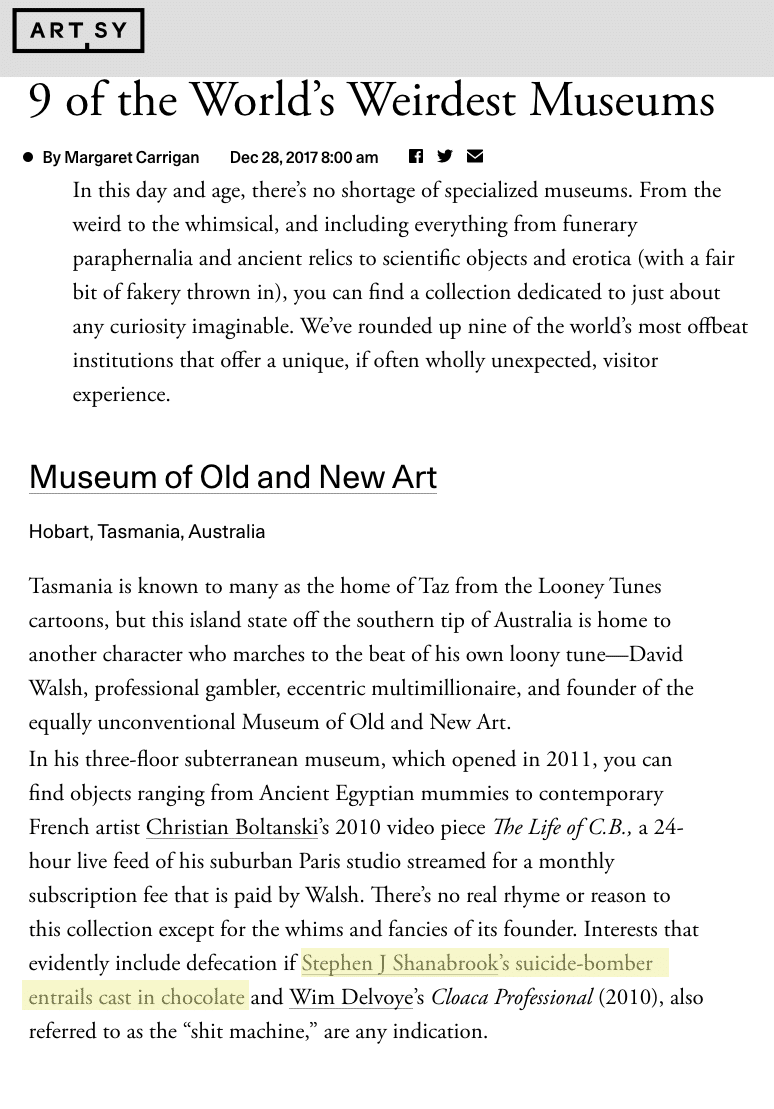 ---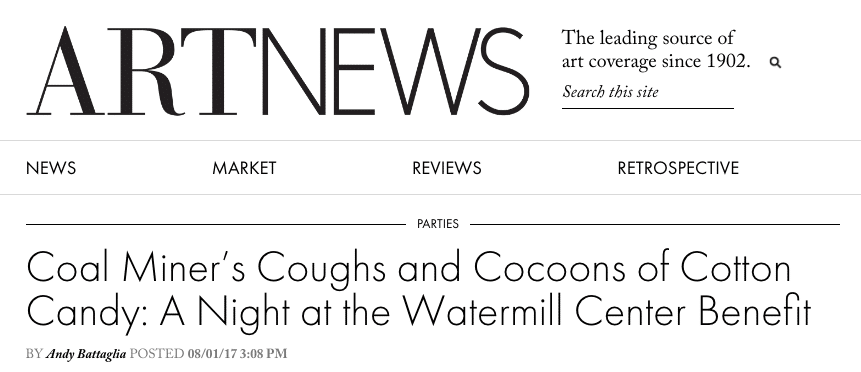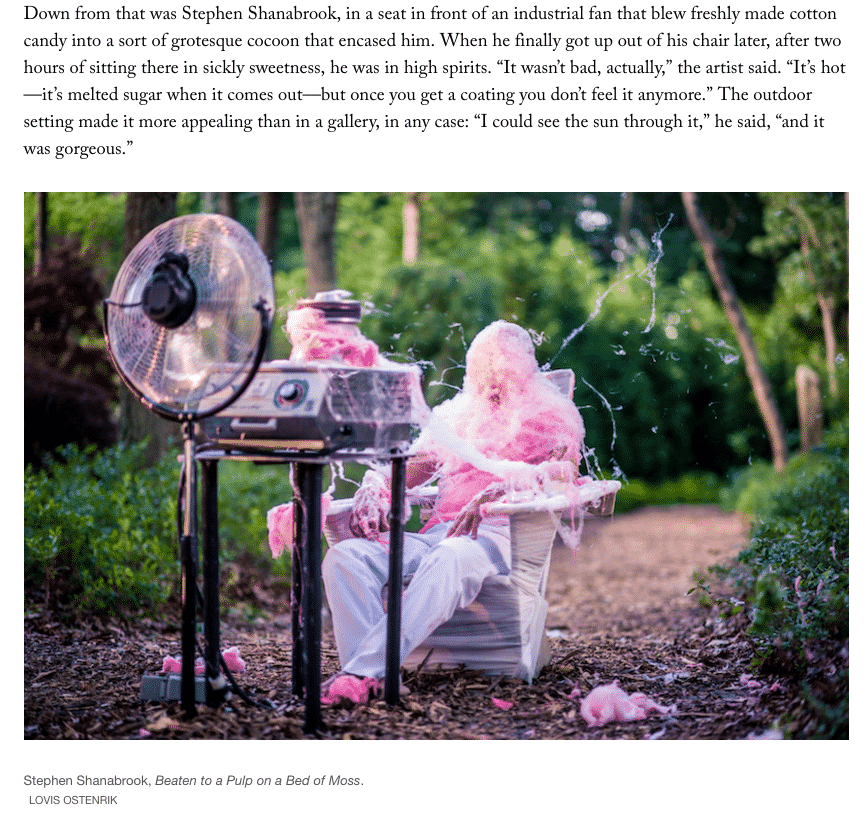 ---

October 4, 2017
---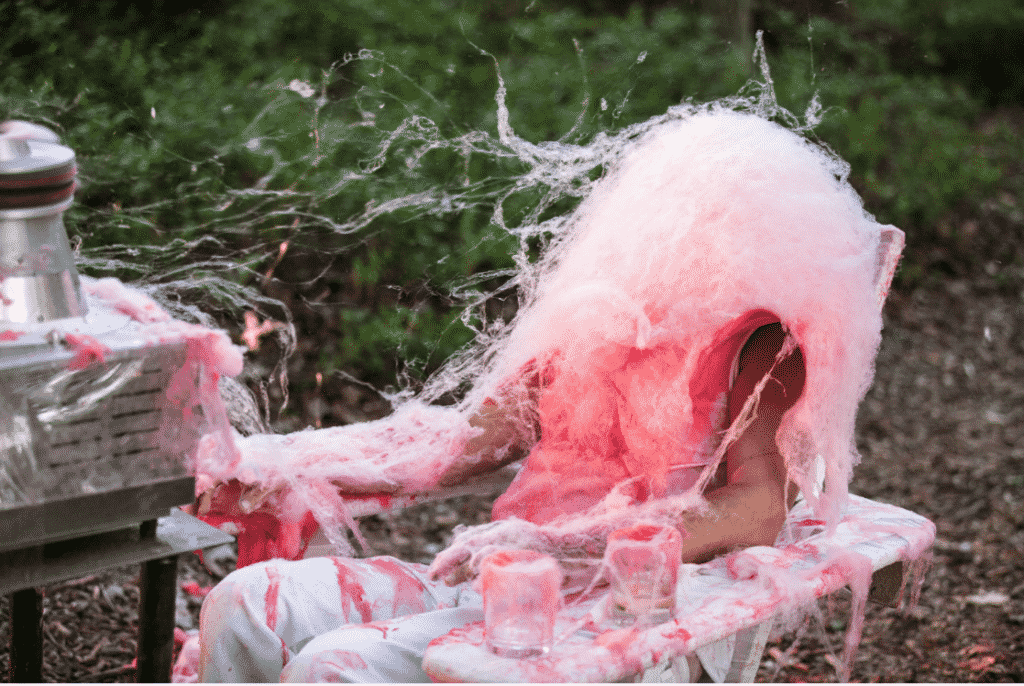 photo © Maria Baranova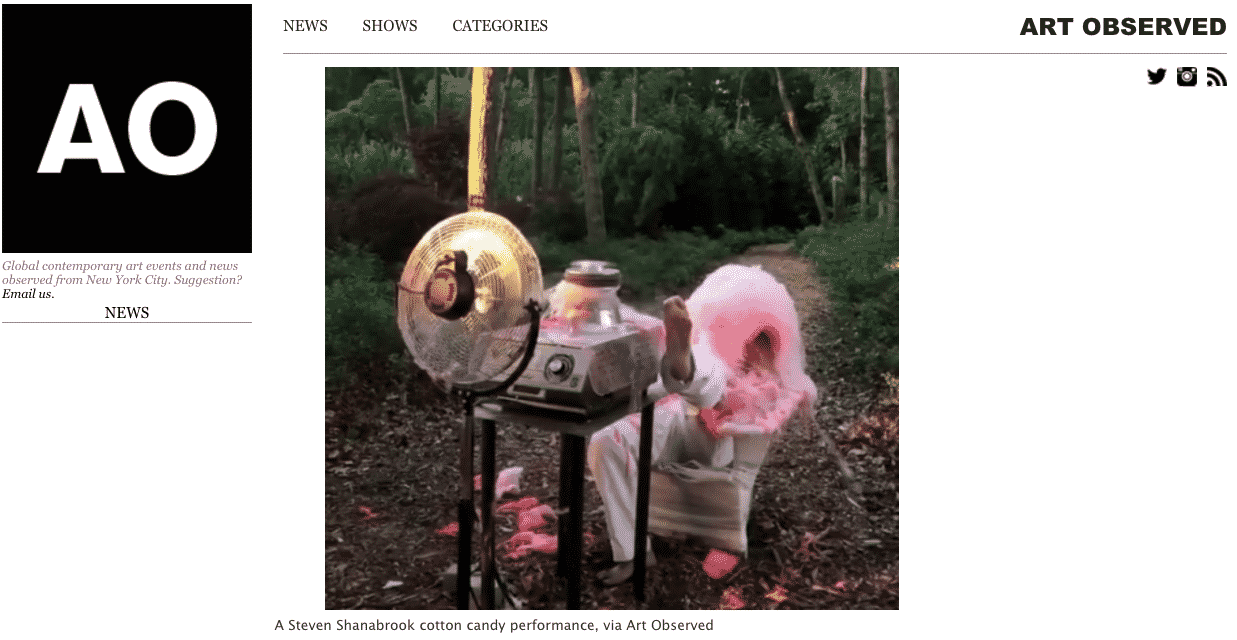 — D. Creahan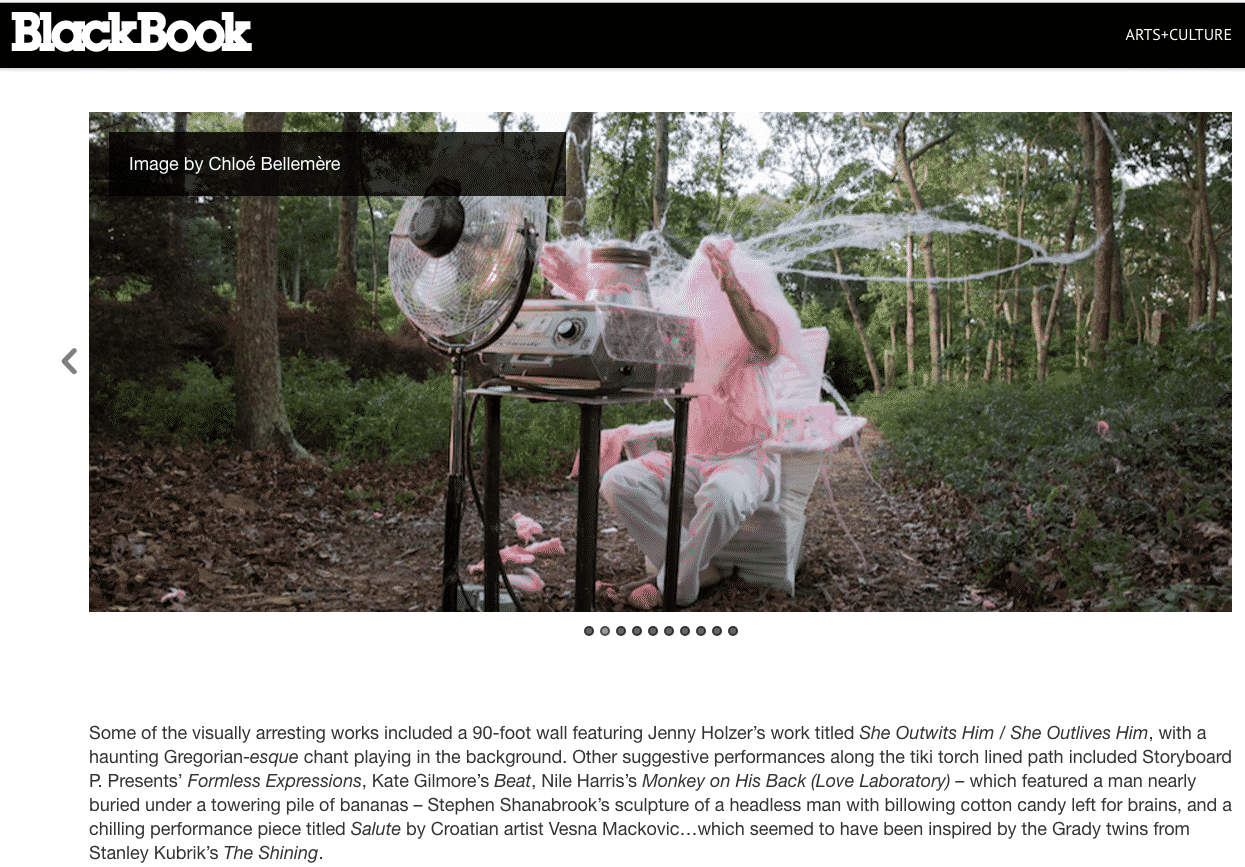 ---
WALKING THROUGH THE MUD sculpture now is a part of ROBERT WILSON Collection
PARTICIPATING in WATERMILL AUCTION
https://www.artsy.net/artwork/stephen-shanabrook-walking-through-the-mud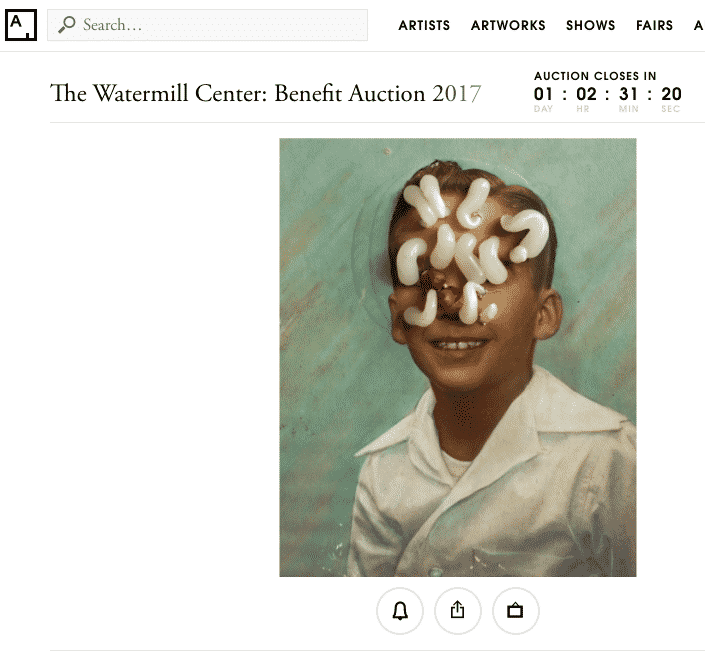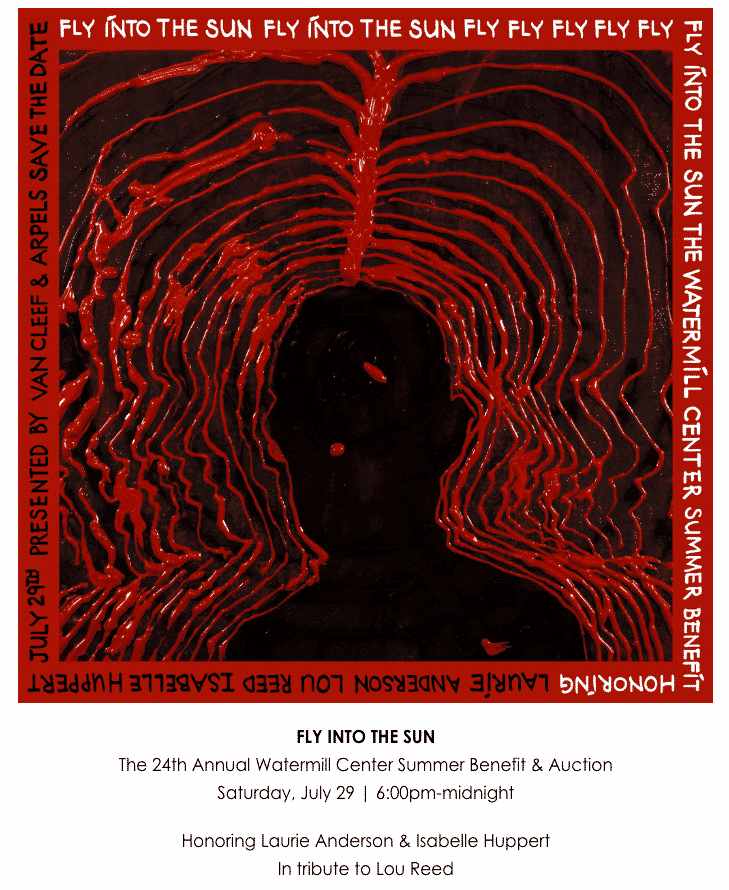 ---

Supreme x COMME des GARÇONS SHIRT 2017 Spring/Summer Collection
"Coming off the back of a Rap-A-Lot Records and Dr. Martens collaboration, Supreme has finally unveiled its latest COMME des GARÇONS SHIRT project for the 2017 spring/summer season. The collection takes inspiration from Stephen J Shanabrook and Veronika Georgieva's set of ads for the COMME des GARÇONS SHIRT 2010 spring/summer campaign, where the artists borrowed from their own collection of work titled Paper Surgery. We are presented with a comprehensive lineup that consists of a lightweight polyurethane-coated fishtail parka, cotton gabardine suit, rayon shirt, hooded sweatshirt, tees, coin pouches, wallets and finally, a Nike Air Force 1 Low. The Nike sneaker comes as a surprise when previous collections with the Japanese label yielded collaborative Vans and Timberland products. However, the Air Force 1 Low offering retains the minimal aesthetic of the classic model but slathers it with a bold print along the sides, as well as the sole. Moreover, the sneaker will see a later release date in May rather than dropping alongside the apparel.
The collection will be available at Supreme's New York, Los Angeles, London and Paris locations, as well as its online store for these regions on April 13. Supreme's Japan stores will see a release on April 15
Finally, this lineup will also be available at Dover Street Market in New York, London, Ginza, Singapore and I.T Beijing Market".
---

File chilometriche. Siti imballati. Tante preghiere. Tutto nella norma quando si tratta di una release del caro e vecchio Supreme. Se prendiamo tutto questo e lo moltiplichiamo all'ennesima potenza, allora otteniamo l'effetto che ha avuto l'uscita fresca fresca di Supreme con Comme des Garçons.
Lasciando da parte per un attimo l'hype e tutto quell'insieme di luoghi comuni su quanto fosse impossibile riuscire ad accaparrarsi qualche pezzo, in questo articolo cercheremo di guardare oltre il box logo stropicciato della collezione fatta in collaborazione con la casa giapponese.
Dietro tutto questo c'è la mente di Stephen J. Shanabrook, classe '65. Sin dalla sua infanzia ha lavorato in una fabbrica che produceva cioccolato. Dettaglio che può sembrare insignificante, ma dietro il golosissimo dolciume, c'è qualcosa di molto più concettuale. Tema ridondante della sua poetica, Shanabrook prova una sorta di feticismo nei confronti dei mutamenti di questo: si scioglie, muta nella sua forma, vede una sorta di flusso energetico che scorre e cambia lo stampo artificiale dato ad ogni cioccolatino.
Sono i giusti requisiti per poter collocare il gusto mutante di Stephen in una corrente artistica nata in Italia negli anni '60: l'Arte Povera. Questa prende la materia allo stato brado (grasso, pelle animale, terreno) e la fonde con l'"Electric Lady", citando Jimi Hendrix, fatta di led, tubi luminosi, fili elettrici e lanciafiamme. Prende l'energia con l'intento di controllarla.
Ma Shanabrook si spinge oltre la sola Arte Povera, e comincia con una serie di lavori per varie campagne pubblicitarie, che lo renderanno poi famoso in tutto il mondo. Si appoggia quindi ad una in particolare, fatta in collaborazione con Veronika Georgieva, intitolata "Paper Surgery": l'immagine è presa, stropicciata, sgualcita, appallottolata e buttata via. Come con le immagini di alcuni grandi dittatori contemporanei (Campagna pubblicitaria per Reporters Without Borders in occasione dei 25 anni dalla fondazione, sono state utilizzate foto di Kim Jong-un e Muhammar Gheddafi), così anche le foto delle modelle di Comme des Garçons (Campagna pubblicitaria per la SS-10) sono prese e rovinate, cambiando l'intero punto di vista di un immaginario culturale che vede la moda come rappresentazione massima di una Bellezza assoluta, che molte volte tende a celare i propri lati più crudi.
Nasce così l'idea del box logo stropicciato, girato al contrario e buttato via. La moda che va contro la moda stessa. Una critica all'hype mosso dal massimo concetto di hype dei giorni nostri. Ancora una volta Rei Kawakubo ci ha dimostrato di come la moda possa smaterializzarsi, diventare astrazione, concetto. Discorso alquanto contraddittorio, che ci fa però riflettere sulla natura costantemente bipolare della moda, natura che, appunto, ce la fa amare tanto quanto ce la fa odiare.
---
HYPEBEAST PUBLICATION
10 Facts You Need to Know About Conceptual Artist Stephen J Shanabrook
The creative visionary has a way with chocolate and cotton candy. By Felson Sajonas ·
---
Carved into the riverside escarpment, the Museum of Old and New Art, universally known as MONA, boasts one of the most provocative collections of art open to the public. And it's the biggest private museum in Australia.This edgy, eclectic phenomenon has been so widely embraced by locals and visitors alike, MONA has emerged as an Australian national treasure. 6 years old, MONA was the brain child of Tasmanian, David Walsh, an art collector and mathematician who made a fortune fine-tuning algorithms enabling him to beat bookies and casinos at their own game. And ever since he opened his museum, like the man, MONA has feasted on up-ending the conventional. It's nicknamed "the subversive adult Disneyland." Unlike a typical museum, with a cliché pillared-entrance, entering MONA is more like falling down a rabbit hole. From the foyer, a spiral staircase leads you 17 meters underground, into a cave-like space, flanked by a 240-million-year-old Triassic sandstone wall. Apparently David Walsh, wanted the exposed wall to provide a greeting as such to creationists, and a challenge to their beliefs. Like the art, the gallery space is equally engulfing. What follows are three levels of steel and stone studded with art and objects loosely themed around sex, evolution and death. It unmistakably strives to shock, offend, inform and entertain in equal measure.
Standing in the basement, I gazed in awe of the gigantic installation called "Bit.fall," a rain-painting machine created by German artist Julius Popp. Spanning two stories, this multi-million dollar contraption comprises 128 computer-controlled nozzles, that release dripping cascades of water in the shape of trending phrases harvested daily from news websites. This pulsing waterfall of words, streamed from real-time Google searches, ranked as my favorite art piece. It's clever, current and rather hypnotic, like a cascading ode to the unrelenting news cycle. I was lulled into a false sense of complacency. As I walked on, mulling whether MONA's reputation for shockability was overhyped, I was suddenly confronted by the chocolate sculpture of the remains of a Chechen suicide bomber. Seriously – chocolate. Stephen J Shanabrook's cast of a disemboweled suicide bomber rendered in chocolate is unsettling, if not distasteful. Not exactly the sort of Easter treat to add to the wish-list. The piece is called On the Road to Heaven The Highway to Hell. It's located alongside a collection of mummies. One level up, a wall has been lined with 120 white porcelain moulds of female genitalia, while another wall boasts a gigantic image of a man engaged in a most unsavoury act with a canine. I really didn't need to see that.And it's not hard to see why some art snobs sniff at MONA's obsession with smut. But the centre-piece of MONA that repulses and engrosses in equal doses is called Cloaca Professional by Belgain artist, Wim Delvoye. This room-sized machine of giant test tubes, pumps and glass receptacles parodies the digestive tract of humans in lurid detail. Nicknamed the poop machine, it is fed twice a day, and if you really want to, you can watch the full digestive process of food unfold over three hours. I didn't stay for the final act, but apparently the bi-product from this giant version of the digestive tract is absolutely pungent.
---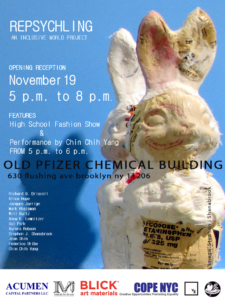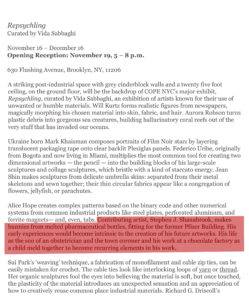 ---
FIVE QUESTIONS WITH… // VERONIKA GEORGIEVA & STEPHEN j SHANABROOK
by Rimma Boshernitsan
Veronika Georgieva and Stephen j Shanabrook join us in our new series 'Five Questions With…', a short-form dialogue created to spark curiosity and connection in bite-size form. From colorful childhood memories of the former Soviet Union, to the new concept of "usefull uselessness," Veronika and Stephen — collaborators and partners in practice — tell us about their backgrounds and inspiration around their work.
Tell us a little bit about your background(s) and where you grew up?
VG: I was born in and grew up in Moscow, Russia. I had a wonderful "pioneer" childhood, known all-too-well to the children of the former Soviet Union. I sharpened my skills dismantling Kalashnikov weapons in 30 seconds in school and during my later years, graduated from Moscow Architectural University—one of the most liberal colleges in the country.
Meanwhile, Stephen, the son of an obstetrician and the town coroner, spent his childhood working at a chocolate factory and building robots in the basement of his house in rural Ohio. He received a BFA from Syracuse University and studied in Florence, Italy. He has participated in residencies at Skowhegan School of Painting and Sculpture and De Atelier in The Netherlands.
What turns you on creatively, spiritually, and/or emotionally?
SJS: I walk. I like to walk a lot, and from moving and seeing, I get inspired.
VG: I love the sea and forest and hiking, but it never inspires me. My mind is fully at rest when I'm in nature. However, what does inspire me, is any form of communication / connection with people, personally or through their art: books, sculptures, paintings, movies.
What was the impetus for you to start your artistic practice and how did you decide to do it together?
SJS: I wanted to contribute and communicate, but in a way that was "useless"—a sort of useful uselessness. I don't try to make sense of what I do, organize it, or give meaning to it. It's like my diary, but in a sculptural way. I call it "emotional conceptualism." And with Veronika, as life partners, over time, it became apparent that our mutual attraction to the combination of destruction and beauty was something we share on many levels.
Who are you most inspired by (together and individually)?
SJS: The Arte Povera artists' methods and process in how an endless amount of material can be adapted into an artwork, had a big influence on me.
VG: I am inspired by people who have a strong sense of "being alive." Those who constantly work on "being alive" like Henry Miller, Bukowski, Tolstoy, Brodsky, and Anna Akhmatova. Not necessarily optimistically alive, but who are sincerely trying to get to the core of themselves, to the core of who they and we are—turning the sufferings into the tool for search. Rilke, Rothko, Proust…
I refuse to be part of modern day's strong competition in search of success, where artists are demanding to be understood and are willing to kill you with their bigger-than-life description of concepts and explanations. The more it's unclear to you, the more you are trying to explain your ideas to others. The truth is simple, that's maybe why we call it artWORK—one's artwork either works or it doesn't. By itself. Without you. Get to the core of yourself, work on yourself. The others will follow. Or not. Why does it matter so much anyway?
How would you want to be remembered?
SJS: As I am.
VG: As a piece of cake. A Russian one, not the horrible American sponge one.